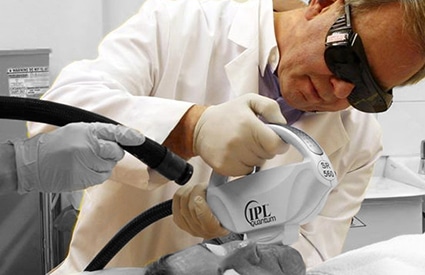 Dr Nick Lowe, MB, CHB, MD, FRCP, FACP
Dr Lowe is an internationally-renowned Consultant and Professor of Dermatology, with over 30 years experience at the cutting edge of new treatments, technology and research. He is a pioneer in botulinum toxin research and studies into skin problems and ageing.
He has the unique advantage of having trained in both the UK and America, and is acknowledged as one of the world's leading experts in dermatology and skincare. He originally graduated from University of Liverpool Medical School in 1968 and has a long-established private practice in London. Dr Lowe is a Clinical Professor of Dermatology at UCLA School of Medicine in Los Angeles, teaching and lecturing in their dermatology programme and was Consultant and Senior Lecturer in Dermatology at UCL School of Medicine in London.
He is highly respected by the press for his unparalleled knowledge and makes regular appearances on television and radio as a skincare and dermatology expert.
Dr Lowe is on the specialist register of The General Medical Council and specialist certified by the Royal College of Physicians and American Board of Dermatology. He is also a Fellow of the British and American College of Physicians, American Board of Dermatology and American Academy of Cosmetic Surgery. Cranley Clinic is registered, and therefore licensed, to provide services by the Care Quality Commission.
In 1992 Dr Nick Lowe was one of just three original researchers who developed Botox treatment for reducing facial frown lines. He later developed Botox for the reduction of "Crows feet", brow lifting, reduced jowls and neck rejuvenation. In 2000 he started research into Botox treatment of severe sweating (Hyperhidrosis) of the underarms, hands, forehead.
All these treatments are available at Cranley Clinic. Our philosophy of Best Botox is a rested, youthful but natural look.
Publications by Dr Lowe
Dr Lowe is the author or co-author of over 450 clinical and research publications, 15 scientific and four educational books for the public. He is the founding editor of both the Journal of Cosmetic and Laser Therapy and The Journal of Cutaneous Laser Therapy and is a regular reviewer of scientific papers for international publications.
His six books for the public and patients include, 'Skin Secrets', 'Away With Wrinkles', 'The Wrinkle Revolution'and his latest book  'Perfectly Clear' are available through Amazon or to order through all good book stores. His book 'Managing your Psoriasis' won the British Medical Association award for public education about a skin disease. Dr Lowe regularly publishes his research with the worlds most highly recognised and peer reviewed medical journals.