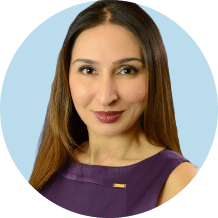 Dr Shirin Lakhani, MBBS, MRCGP, DRCOG
Dr Shirin is a cosmetic doctor with a broad-based medical background. She graduated from Guy's & St Thomas' Hospitals in London and then obtained various post-graduate qualifications in minor surgery and aesthetics. She has worked in General Practice as well as in hospital-based roles including general surgery, urology and accident & emergency. She is also a trained anaesthetist.
In addition to consulting on the full range of aesthetic treatments, Dr Shirin has specialist expertise in the increasingly popular area of intimate health for both men and women. As a recognised authority in this field, she appears regularly on television and in the press as well as speaking at medical conferences worldwide. Dr Shirin consults on every aspect of intimate health, including dermatological issues such as Lichen Sclerosis, feminine tightening using the non-surgical Ultra Femme 360 treatment, incontinence, as well as aesthetic rejuvenation and sexual performance enhancement for both men and women.