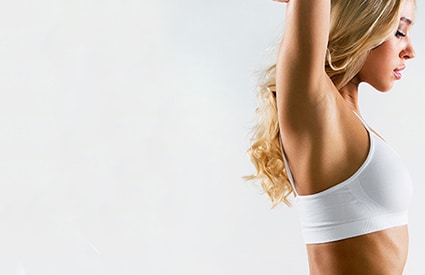 Excess Sweating
MEDICAL
DERMATOLOGY
Excessive sweating, whether from the underarms, face, forehead, palm of the hands or soles of the feet can be a hugely embarrassing and life-impacting problem for many people. If sweaty armpits mean you leave your jacket on to hide unsightly wet patches and stains, or sweaty palms means you avoid physical contact, then we can help. And the good news is you don't have to resort to a surgical solution thanks to pioneering work by Dr Lowe of Cranley Clinic. His original research led to the approval of muscle relaxant injections for the treatment of what excessive sweating, a medical condition called hyperhidrosis.
The treatment involves the injections into key sweat areas, blocking the nerves that supply the eccrine (sweat) glands, and this prevents the glands from producing sweat.  Treatment is effective for approximately 6 months after which it needs to be repeated, although with successive treatments the period of efficacy will get longer.
When injecting traditionally the treatment can be time-consuming and requires a skilled and experienced clinician as the desired injection depth is the deep dermis, at or near the junction with the subcutaneous tissue.  Many patients find these injections extremely painful, especially in the hands and soles of the feet.
For this reason at Cranley Clinic we have been pioneering a refinement if this treatment to offer a pain free alternative. Our Mr Ali Ghanem, a Key Opinion Leader for the Enerjet needle free injection technology, has been pioneering the use of Enerjet 2 technology to deliver the doe of muscle relaxant to the required areas. Using pneumatic jet stream technology rather than a needle there is only minimal discomfort and no need even for topical anaesthesia.
Not only does this make treatment for Hyperhidrosis pain free, the EnerJet 2 system provides technology-controlled uniformity and consistency in penetration depth and distribution of the dose so treatment effectiveness is also improved.
If you suffer from excessive seating, we can now offer you an effective and pain free solution. Book a consultation and we will end the embarrassment, no sweat!