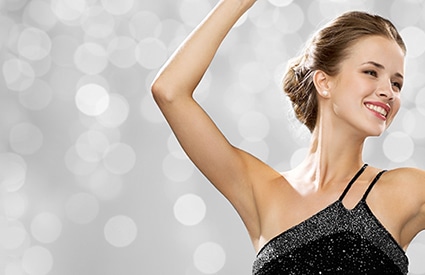 HAIR TODAY,
GONE
TOMORROW
If unslightly facial or body hair is getting you down and causing you embarrassment then we have the perfect solution.
Laser Hair Removal reduces unwanted hair, using pulses of laser light to destroy hair follicles for permanent hair reduction.  It is also an effective treatment for folliculitis (infected hair follicles) and ingrown hairs.
Laser hair removal machines use focused light to penetrate the epidermis (top layer) of the skin and target the underlying hair follicle. The light energy is transferred to thermal energy in the hair follicle. The hair's melanin (pigment) absorbs the thermal energy and weakens the hair follicle gradually
destroying it over time.  You will experience mild discomfort during the treatment and immediately after the area will be pink.  A course of treatments should be carried out at four to six weekly intervals depending on the area. The number of treatments needed will vary between patients, depending on skin colour, hair colour, area and amount of hair you need to reduce.
Suffering from hair loss? Our dedicated Hair Clinic can help stimulate hair growth and restore a fuller head of hair.
If your hair is thinning and causing you embarrassment, we can fully evaluate the reasons for your hair loss and recommend optimum individual treatments for you. These can include supplements plus Minoxidol Foam, tablets that reduce androgen hormone effects, as well as natural regenerative treatments using your body's own growth factors and if required transplantation.
Book your consultation now to discuss how you can put an end to the embarrassment of hair loss or of unwanted hair.