Medical Skin Treatments such as peels or Dermasweep – offer a quick, pain free and effective way of treating a variety of skin problems including, acne, sun damage, fine lines, pigmentation, melasma, dull lacklustre skin and enlarged pores.  The skin is left feeling soft and smooth and the quality and texture of skin is improved.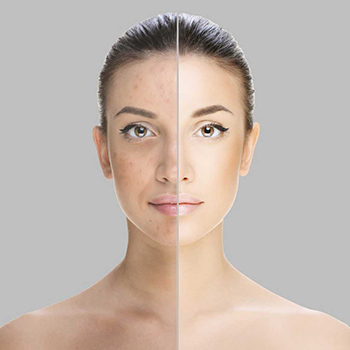 BioRePeel is an innovative peel treatment, using patented 2-phase technology. This provides a bio-stimulating, revitalising and peel-like effect. The combination of these components results in a mild exfoliation, stimulating the biosynthetic process, restoring the structure of the skin. This process decreases damage from UV light, pigmentation and acne scars and effectively preventing the ageing of skin. The treatment is suitable for all skin types, including those with fine line wrinkles, acne, fresh scarring and blackheads.
The synergy of the individual components of the product restores the optimal physiological conditions of the skin, making the product no longer just a peeling, but a complete medical aesthetic and dermatological treatment, ideal for every medical need thanks to its antioxidant and moisturising action.
Exfoliating and keratolytic action promotes cell turnover by removing the outer corneal layer cells with selective action on corneocytes' junction bonds.
Active ingredients' derma functionality contributes to a profound stimulation of skin replication and biosynthetic processes.
Dissolves bonds between cells allowing it to gently slough off that dulling, top layer of skin, to reveal a smooth and glowing underneath. No needles,

 

just painless, fast-acting results.
The benefits of BioRePeel
Moisturises, lifts and brightens skin
Improves skin tone
Instant results with NO injections
Painless
Zero frost effect
Little to no downtime post-treatment.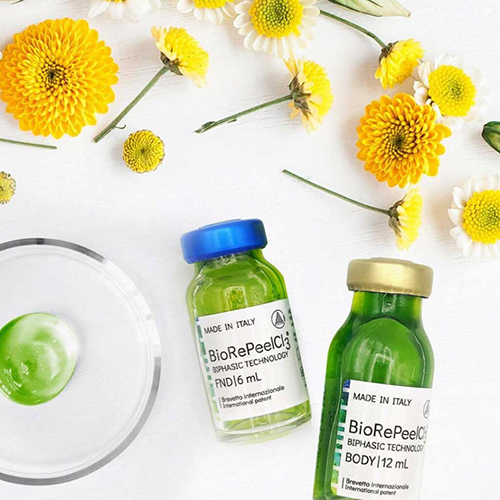 There are a variety of medical strength peels available for different skin types and conditions.  Peels improve the skin by removing the top dead layer of skin helping to improve dull lacklustre skin.  It also helps to unblock clogged pores which can help reduce acne formation. Peels stimulate the production of collagen and elastin and speed up the cell renewal process.  By removing the top layer of skin, this allows for deeper penetration of active ingredients and moisture into the deeper layers of the skin.
The treatment takes approximately 20 minutes and after the treatment the skin will have a pinkish glow.  There is very little to no downtime immediately after the treatment and you may resume your normal activities.  You will see results after the first treatment but more lasting and significant results will occur after four to six treatment sessions spaced approximately 10 – 14 days apart.
The Vi peel is made up of TCA, Tretinoic Acid, Salicylic Acid, Phenol, Vitamin C and a mineral blend. It loosens dead surface cells and helps reduce cell accumulation at the upper levels of the skin to reveal softer, smoother, younger skin beneath. It helps reduce fine lines and wrinkles, minimises pore size and reduces sun spots and hyperpigmentation including melasma. It stimulates collagen and elastin and is very effective in treating acne problems.
Unlike some other peels the Vi Peel does not damage the deeper, healthy skin cells so you can continue to have scheduled treatments for as long as you want.   By sloughing off the old dead skin, forcing the body to recreate new skin at a faster rate, the skin thickens stimulating the underlying structure to make more collagen and elastin.
The area to be treated will be cleansed with a mild cleanser and then wiped with acetone to remove the oils and cellular debris from the surface of the skin.  Your skin is then ready for the application of the Vi Peel.
The peel with be applied to the area using sterile gauze.  You will experience a slight stinging sensation for a few seconds which usually subsides almost immediately.  Some patients may feel more comfortable using a fan during the application of the peel.  Once the treatment has finished, the peel will not be washed off but will remain on the skin for at least 5 hours. It should then be removed (at least 1 hour before bedtime) following the instructions given.  When treating areas that are not exposed to sunlight e.g. back, you may leave the peel on until the following morning and apply the Retin A  towelette supplied in your after care pack and leave it on the skin until the evening, again you will be advised of this during your appointment.
A single Vi Peel treatment will add a healthy glow to the skin.
For acne prone or sun damaged skin, the peel may be repeated as often as every two weeks until the desired result is achieved.  For hyperpigmentation or melasma the peel may be repeated every 4 weeks for up to 4 treatment sessions.
Older skins can be treated every 6-8 weeks.
After your initial course of treatments, a maintenance session every 3 months is recommended to maintain your results.