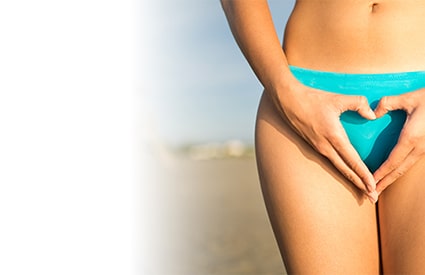 Vaginal Tightening
and Rejuvenation
INTIMATE
HEALTH
As we age, we naturally lose some tone in all of our muscles due to a lowered production of collagen in the body and this can lead to vaginal laxity and loss of plumpness of the labia.
Many women also consider vaginal tightening after having children. During natural childbirth, the vaginal muscles expand to form the birth canal for your baby. After several children, or sometimes after having a large baby or a difficult delivery, your vaginal muscles can be left looser and weak and the surrounding tissues may be stretched and torn. Even after traditional treatments for the reduction of incontinence, such as pelvic floor exercises, the condition of your vaginal muscles and pelvic floor may not always improve.
Whilst we can offer traditional surgical vaginoplasty and labiaplasty, we do offer an effective alternative for those seeking a non-surgical solution. Ultra Femme 360 by BTL is a revolutionary vaginal rejuvenation and tightening treatment that is a completely safe, non-surgical alternative to traditional surgical vaginoplasty and labiaplasty. Ultra Femme is able to provide complete vaginal rejuvenation both internally and externally, including labial remodeling and vaginal tightening. The FDA approved Ultra Femme device works by using radiofrequency waves to help stimulate your body's natural collagen production and enhance blood flow to the area.