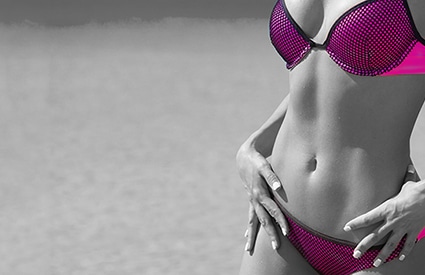 ENDOLIFT®
BODY
TREATMENTS
An innovative new laser alternative to surgical lifting or liposuction
Great for fat reduction and tightening skin – double chin, jowls
Remodels deep and superficial layers of the skin
Boosts collagen production
Minimally invasive; no scalpel, no scars, no downtime – a lunchtime facelift
Just one painless treatment normally required, with immediate results
Endolift® is an innovative new minimally invasive laser treatment that remodels the entire face. In terms of facial aesthetics, Endolift® can be effective for correcting mild sagging of the skin and fat accumulations on the lower third of the face (double chin, cheeks, mouth, jaw line) and neck, as well as for addressing skin laxity of the lower eyelid. In addition to its contouring benefits, the treatment can also stimulate collagen growth and in so doing promote tighter, more youthful appearance.
Endolift® can also addition for areas of the body including neckline, knees, tummy, bottom, inner thigh and ankles.
If you have been troubled by hard to lose fat or sagging skin on your face or body but not been keen to have the pain, scarring and downtime associated with traditional invasive alternatives, this innovative new treatment is perfect for you.
The treatment offers the benefits of a surgical facelift but is scalpel, scar, anaesthesia and pain-free. Endolift® is the result of advanced technological and medical research focused on how to get the results of a surgical lifting procedure but avoiding the downsides associated with traditional surgery such as longer recovery time, a higher rate of surgical issues and invariably higher prices.
The Endolift® treatment is endo-tissutal (interstitial) and works through specific single-use micro optical fibres, as thin as hair, which are easily inserted under the skin into the superficial hypodermis. Then laser-induced selective heat melts the fat, which spills from the microscopic entry holes in the treated area. This simultaneously causes immediate skin retraction and the reduction of skin laxity thanks to the activation of neo-collagenesis and of metabolic functions in the extra cellular matrix. The skin tightening created by Endolift® is strictly linked to the selectivity of the laser beam used, that is, to the specific interaction of the laser light which selectively hits two of the main targets of the human body: water and fat.
The duration of the procedure depends on how many parts of the face (or body) are to be treated, starting from 5 minutes for just one part of the face, up to half an hour for the entire face. There is no recovery time required and it is possible to return to normal activities within a few hours.
Results of the Endolift® procedure are not only immediately visible but continue to improve for several months following the procedure, as additional collagen builds in the deep layers of the skin. The best moment to appreciate the results achieved is after 6 months.
Normally only one treatment is required but as with all procedures, the response and the duration of the effect depends on each patient and, if the physician deems it necessary, Endolift® can be repeated with no collateral effects.
Mr Ghanem is a Key Opinion Leader for Endolift® and an approved trainer for the procedure so you know you are in safe hands.