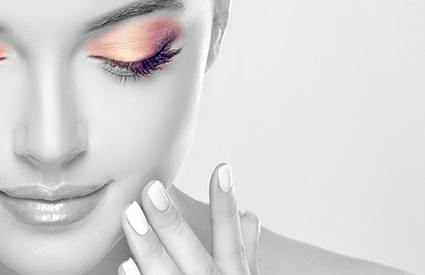 THERMAGE
FACIAL
AESTHETICS
Thermage CPT (Comfort Pulse Technology)
Non-invasive clinically proved radiofrequency treatment to strengthen collagen in your skin for a smooth, sleek look that can help you feel years younger.
How it works
Thermage treatments are all about focusing radiofrequency energy to stimulate the body's own natural renewal process. It uses a combination of heat energy to treat deep tissue and cooling effects to protect the skin surface that deliver better patient comfort. The latest generation of Thermage includes patented Comfort Pulse Technology – gentle vibrations and interspersed cooling that make your treatment even more comfortable.
EYES
As we age, the skin loses its elasticity which leads to wrinkles, sagging and hooding. Thermage treats the upper and lower eyelids to help you look more youthful and rested.
FACE
Due to aging and environmental damage, the skin's collagen and elastin simply break down, causing your skin to lose elasticity resulting in wrinkles, loose and sagging skin. Over time your features lose definition, especially in the jawline, lips and neck. Thermage smooths lines and wrinkles and remodels collagen for an overall youthful appearance.
BODY
Skin is our bodies largest organ, continually adapting to the changes in your shape and lifestyle. As we age our skin's resilience and elasticity decreases, especially after major events like childbirth or weight loss and sometimes never returns to that smooth skin feeling. Thermage can help to tighten loose contours and wrinkling of the skin and can even temporarily improve the appearance of cellulite.
Thermage is for when you want to look younger, but don't want the overly drastic change or extended downtime that comes with surgery. It's targeted effective treatment that can help address the signs of aging on many areas of the face and body. Thermage fits into any lifestyle and your current beauty regimen. A single treatment delivers real results that you can't get from lotions or creams. It's non – invasive and clinically proven to be safe with minimal to no downtime.
Treatment typically takes between 45 – 95 minutes, depending on the treatment area. Most people can see and feel results very soon after treatment – in as little as a day, but visible improvement and contouring continues for up to six months as your body regenerates collagen. Results can last several years.
Thermage is a great solution if you want your skin to look sleeker, smoother and younger, but can't afford a lot of time away from work or your social life.