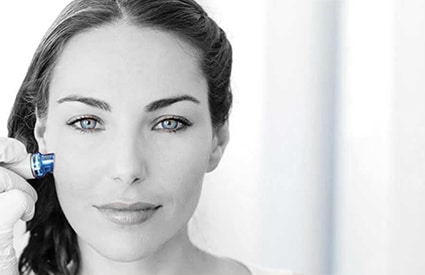 HydraFacial
FACIAL
AESTHETICS
Express Hydrafacial treatment session for just £150
Fine lines and Wrinkles

Elasticity and Firmness

Even Tone and Vibrancy

Skin Texture

Brown Spots

Oily and Congested Skin

Enlarged Pores
HydraFacial is so much more than just another facial. It's an experience. A pleasure. A feeling. And a confidence booster. It focuses on the unique philosophy of 'Skin Health for Life'. But, it's also about much more than just great looking, healthy skin. When our skin looks good and feels good, we feel good too. That's the difference you get with a HydraFacial.
HydraFacial uses advanced, patented vortex technology to deeply cleanse the skin and effectively deliver botanical ingredients containing nutrients such as hyaluronic acid, horse chestnut seed extract, red algae extract, copper, zinc and magnesium peptides to where they do the most good. In addition, HydraFacial also delivers powerful antioxidants to counteract damage by free radicals – from pollution, sun and stress – which can degrade the skin and accelerate the ageing process.
After just one treatment you'll look great. And feel great. Instantly. And the more you use it – the healthier your skin will become. So, for long-term healthy skin and a glowing complexion why settle for an ordinary facial, when you can choose a HydraFacial?
The HydraFacial Treatment
Your skin isn't like everyone else's. So, your treatment shouldn't be either. HydraFacial can be tailored to safely and effectively address specific skin concerns. Using targeted protocols developed to help mitigate some of the most universal skin concerns your trained HydraFacial professional will tailor your treatment to make it most exacting to your unique needs.
The HydraFacial Core Treatment consists of a three-stage process taking around 1 hour and is perfect for anyone with a busy lifestyle. It detoxifies the skin, removes dead skin cells, extracts any debris and provides long lasting hydration and essential nutrient support to protect and rebuilds collagen levels. For those with a little more time, the HydraFacial Skin Health for Life Extended Treatment is very popular and adds an additional 2 steps that top and tail your HydraFacial with the Detox and Rejuvenation steps giving you a natural, glowing complexion that looks as good as you feel.