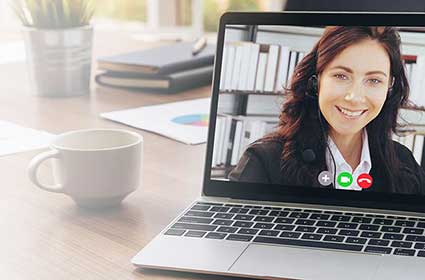 YOUR
BEST
ZOOM
FACE &
NECK
Over the last year many of us have had to become familiar with the 'Zoom call' or virtual meetings on Microsoft Teams. This new approach to communication, both in our professional and personal lives is now well established and moving forward will remain a fact of life for many of us.  
If you have thought you do not like the way you look on Zoom, don't worry you are not alone! Focusing on our faces and necks on screen with lighting that does not necessarily help us look our best has left many people unhappy with their appearance! 
They are frequently surprised to see they actually looked different and older on Zoom to how they think they look and this is undermining confidence. So much so that many have reached for the 'enhance appearance' button akin to adding a soft filter, or even resorted to turning their camera off and saying it is not working!
The good news is that we at Cranley Clinic have a number of highly successful, effective and safe treatments to improve your Zoom appearance. Whether an injectable or an energy based treatment, the key to our success is to think about the face and neck as a combined area for treatment.
Muscle relaxant injections can reduce the necklines and the drop of your lower face and your jowls

Different fillers can lift the mid and lower face reducing your jowls, defining your jaw line and your chin

Fat reducing and contouring treatments such as Endolift, Sofwave or Coolsculpting can reduce double chins and unwanted fat 

Our comprehensive laser and radio-frequency systems at the clinic can rejuvenate your skin on the face and neck for a tightened more youthful appearance
As an award-winning aesthetics clinic established by consultant dermatologist Dr Nick Lowe, who pioneered the use of anti-wrinkle injections and fillers for aesthetic purposes, and with a clinician team that includes Mr Ali Ghanem, the world renowned consultant plastic surgeon who has pioneered numerous on invasive and scarless skin tightening and contouring procedures, there is no one better placed to enhance your appearance. 
Get in touch now to book a consultation about improving your Zoom face and building your confidence for those calls!